EQUIPMENT
You may find you have a need to use some specialist equipment to help you bowl. Listed below are some of the more obvious ones starting with the bowls wheelchairs currently available in the UK
BRADSHAW BOWLS BUGGY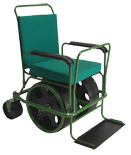 If you would like more information regarding the Bradshaw Bowls Buggy please email info@disabilitybowlsengland.org.uk or contact manufacturer Peter Breadshaw directly on Phone now (24 hours service)
Tel: +44 (0)1275 84 80 70
Email: info@bbbugs.co.uk
Address: Bradshaw Bowls Buggies, 88 South Road, Portishead, Bristol BS20 7DY
PARA-HANDY BOWLING WHEELCHAIRS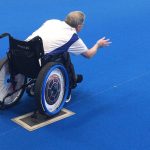 For more information: www.para-handybowlingwheelchair.com
CHAIRIOT BOWLS WHEELCHAIR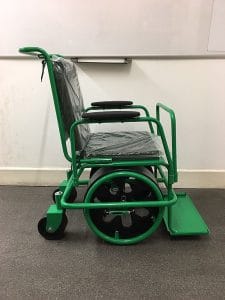 Supplied by Whitehead Bowls, Unit 3, Acorn Park, Marsh Lane, Bridgwater, Somerset. TA6 6LQ
Contact: Duncan Whitehead
Email: duncan@whiteheadbowls.co.uk
Website: www.whiteheadbowls.co.uk
More details: Chairiot Bowls Wheelchair
Bowls Royce Bowls Wheelchair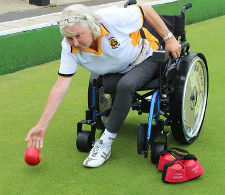 Developed by Bush Hill Bowls in conjunction with disability sports engineering charity ReMap.
https://www.bushhillbowls.co.uk/store/bowls-royce-bowls-wheelchair/
Other things you may want to consider are:- Guiseley Mobility who can add a power unit to some bowls wheelchairs, but you should check with them first. There is more information at Guiseley Mobility
Other equipment may help bowlers who need to use a bowls wheelchair but are not exclusively wheelchair related such as bowls launchers; walking frames on wheels; bowls lifters; walking sticks and wide rubber ferrules for walking sticks – there's lots available depending upon your particular requirements.