Peter Bradshaw, the inventor of Bradshaw Buggy is retiring and ceasing production of the famous Buggy.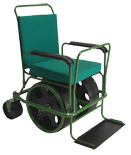 News has reached the BWBA that Peter Bradshaw is to retire. The story of how he came to invent, build and produce at scale the iconic Bradshaw Bowl Buggy may be known to some of you. But a fuller account is set out below by the BWBA's former Patron David Rhys Jones. David's appreciation of Peter's hard work (along with his wife Anne) and of the Buggy's significance is set out below.
Meanwhile, Paul Brown, BWBA Chairman released the following statement: –
"I was saddened to hear the news that Peter Bradshaw was retiring.  I have been one of the many individuals who has been using the Bradshaw Bowls Buggy to bowl both indoors and outdoors.  It was the ability to fully integrate that was a big plus for me, it allowed me to continue to play the game to a very high standard.  My first use of the buggy was back in 2007, when it was already fully established, however bowling in Bristol since the late 90's I have met many and became friends with some of the early adopters, all of whom have enjoyed the benefits the buggy brought allowing them to integrate in the game they love."
So, let's read David Rhys Jones' tribute to Peter Bradshaw. David starts with some thoughts on the number three…
The three W's – the World Wide Web!
The three K's – the Ku Klux Klan!
The three R's – Reading 'Riting and 'Rithmetic!
The three M's – Mmm… Maltesers, of course!
But what about the three B's that are close to the hearts of every wheelchair bowler…?
BBB – the Bradshaw Bowls Buggy!
For those who don't know, the BBB is the revolutionary invention that has changed the world for a huge number of wheelchair users, giving them the freedom of the green, and allowing them to play on equal terms with and against their able-bodied friends and rivals.
At the invitation of BWBA President Ian Blackmore, I am delighted to be able to pay tribute to the remarkable man who designed and made the life-changing contraption that has made Drake's ancient game of bowls accessible to so many – and to wish inventor Peter Bradshaw, who is no longer manufacturing the Buggy, a very happy retirement.
That he is a remarkable man I can attest. In fact, I have known Peter for more than 57 years, having first met him when I was appointed as drama teacher at Gordano School in Portishead in 1963. I was also engaged to teach art, and Peter happened to be the head of the art department, so we became – and remain – close friends. I am even proud to be able to claim that I played a small role in the development of the Buggy – by introducing Peter to bowls.
In those days, I was a half decent, and fanatical bowler. I had already played for the Welsh juniors, and I joined the Clevedon club, where David Bryant invited me to become his pairs partner – but that's another story! Having started a bowls club for students at Caerleon College, where I trained as a teacher, I proceeded to introduce my colleagues at Gordano School to our fabulous sport.
Many of my fellow teachers caught the bug and joined local clubs, and Peter joined the Northavon indoor club in Thornbury, where the club secretary was Dr David Peacock, a professor of epidemiology at Bristol University. Believe it or not, the good doctor, who enjoyed his game of bowls, had been struck down with polio in his teens, and was confined to a wheelchair.
This did not stop him enjoying a game of bowls (or being secretary of an able-bodied club), but, as Peter Bradshaw noted with dismay, he had to make-do with a makeshift game, in which he was required always to play on an end rink, and off a hard-board platform that protected the carpet from the wheels of his standard wheelchair. Apparently, he had often dreamt of owning a chair that could open up the green, but a friendly roll-up was all he could manage. Proper competitive bowls was out of the question.
"I can produce something that will enable you to do better than this," Peter told him. "I will design a chair that will take you all over the green, without damaging the carpet, and you will be able to play bowls properly at last!"
"Oh yes," replied the Doc, rather wearily I imagine, because he had heard such suggestions before. "That would be nice!" But our art teacher hero Peter meant every word he said. With the mind of an engineer, the creative imagination of an artist, and the tenacity of a bulldog, he proceeded over the next few weeks to cobble together a chair with wide, low-friction wheels that we could call the Bradshaw Bowls Buggy Mark One.
Dr Peacock became the intrepid test pilot, along with other guinea pigs like Sid and Mary Ralfs, and, after identifying ways in which the design could be improved, Peter was eventually happy with the product, and made it available to wheelchair bowlers all over the world. The Buggy has less impact on the carpet or grass than an able-bodied person standing on the rink. Its wide wheels are tucked under the seat, so the player occupies about the same personal space as an able-bodied person. It is always used on a flat surface, so there is no need for a brake. However, the foot rest serves as a sort of 'stabiliser' when the player leans forward to deliver. And it is surprisingly manoeuvrable – even without a motor (which some people now prefer).
Peter, with the help and practical support of his wife Anne, has now made and dispatched more than a thousand Buggies to clubs and individual bowlers all over the world. Nearly all indoor clubs in England have at least one Buggy, which is available to visitors. To be honest, the fact that it tilts marginally forward on to the foot rest, and backwards on to the rear castors, takes a bit of getting used to if you have grown accustomed to a traditional wheelchair – but it doesn't take long for most people to adapt.
Truly, the BBB has made a difference – a huge difference – to so many people. Peter is modest about his achievements, but is well aware of how influential his invention has been. "I often get letters or emails from people who tell me how much it means to them to be able to play bowls again," he says. "It makes me feel so humble. It seems a long road from the days when I was working with Dr Peacock, when there was actually a certain amount of prejudice around in bowls clubs. It's extremely gratifying to see how bowlers in wheelchairs have become integrated into the mainstream game."
The change of attitude to wheelchair bowls has run parallel with the general public's increasing interest in sport for the disabled. Everyone thrills to the skill and achievements of the athletes in the Paralympics and events like the Invictus Games. Much credit must be given to the national governing bodies, who have welcomed the wheelies, and allowed them to enter national championships on equal terms. But this degree of integration could never have been achieved without the arrival of the Bradshaw Bowls Buggy.
I started this tribute by stating that this octogenarian is a remarkable man – and so he is. In the 1960's, with no knowledge of sailing, he built his own yacht in an upstairs room, and learnt to sail. Since then, he has sailed across the Pacific from Panama to New Zealand, and can often be seen skippering a boat in the Mediterranean Sea. He also built himself a microlight aircraft, and took to the air in style, and he has mastered the arts of skateboarding and hang-gliding. Another of his hobbies was making and flying model aircraft. It goes without saying that he is a talented artist, both in oils and water-colour, and a nifty thrower of pots on a traditional wheel.
Peter is one of the most gregarious people I know. A party animal, he loves dressing up, and is always up for a lark. He is fascinated by things, and wants to know how they work, he's an advocate of driverless cars, a keen student of any form of sustainable energy, and is always excited by a good conspiracy theory. Inside his 83-year-old body is a young man – a child even – trying to get out!
And, on top of all this, he's a good friend.
Please raise a glass as I propose a toast to Peter Bradshaw, the inventor of the Bradshaw Bowls Buggy.
…and a final word from Ian Blackmore BWBA President: –
"I want to thank David for his appreciation of Peter Bradshaw's significance to bowlers who use a wheelchair to play the game they love. I first met Peter in the early 1990s when the landscape for bowlers in wheelchairs was light years away from what it is now. The introduction and widespread use of the Buggy had a profound effect on the integration of bowlers with wheelchairs into the sport – a profound effect. Yes, it took years, but the Buggy was the first proper piece of kit that moved things forward and helped open the door for other designs to follow and gain acceptance too. I benefited from Peter's invention. I bought my Buggy in 1992 and it's still good to go today. It helped me personally but also helped me allay the fears of bowls organisation during my time as BWBA Chairman. Thank you Peter, and thank you to your wife Anne for all that you have done."